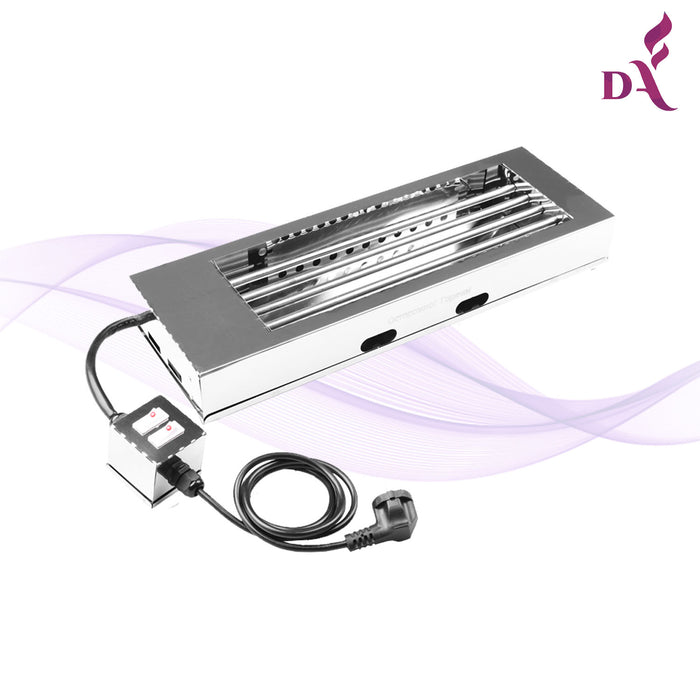 Description
PROFESSIONAL CHARCOAL BURNER
Electric power - 1.6 kW
Voltage 220V
Weight – 2kg
Daly Charcoal Burner is an interesting and cool burner for lighting hookah charcoal.
Great for quickly lighting up a large amount of coal - which is very cool for establishments.
The heaters are made of a solid metal tube that is resistant to aggressive environments, and the heating element itself is located inside the tubes. The control panel is placed outside the heating zone, which excludes burnout of the buttons, and it can be turned on either in full heating mode or only in 2 tubes out of 4.
The coal is completely ignited in 7-10 minutes. Holds up to 30 coals at a time.
Main BONUS – You no longer change the burner every month or 2, where you just change the heater that will significantly reduce your spending.
Professional Charcoal Heater Daly
Save

0

%
Save %
Original price
Dhs. 365.00
-
Original price
Dhs. 365.00
Dhs. 365.00
-
Dhs. 365.00
Current price
Dhs. 365.00


You'll get SMS reminders for repayment, you can repay using any bank card or ApplePay
Specification:
Box Dimensions
7.5cm (H) 63cm (W) 18.7cm (D)